During conversation with some other people from Albuquerque staying at the same apartments we were staying in, they mentioned the boutique Hotel Quinta Don Jose located one block behind us at Reforma #139. Now we have driven down Reforma probably 50 time throughout our visits to the area over the years and had no idea this place existed.
What a surprise!
You will see from the fotos which follow that the front of this establishment gives no indication of just what is there. As the story goes, this was a run down property when the owners purchased the property a number of years back. In a typical fashion, they opened on a small scale and then made improvements as they got money ahead. The end result is one fine establishment! While they do have a restaurant called TlaquePasta, I will make a separate post about our experiences there.
The bar is well worth a visit as Charlie, the bartender has been there 8+ years and treats his customers very well with 2/1 specials and nice strong drinks. One plus for the smokers is that they allow smoking out on the open air patio. Even if one doesn't stay there, we would recommend a visit to see if it meets your style.
[img]
[/img]
[img]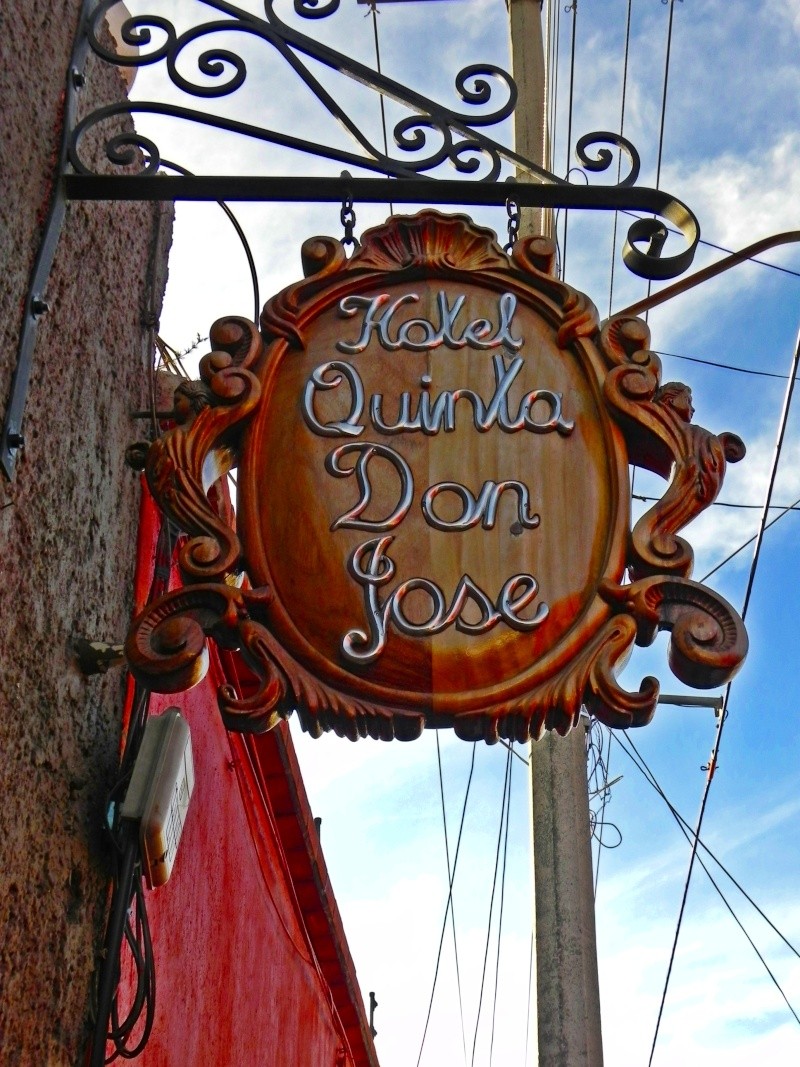 [/img]
[img]
[/img]
[img]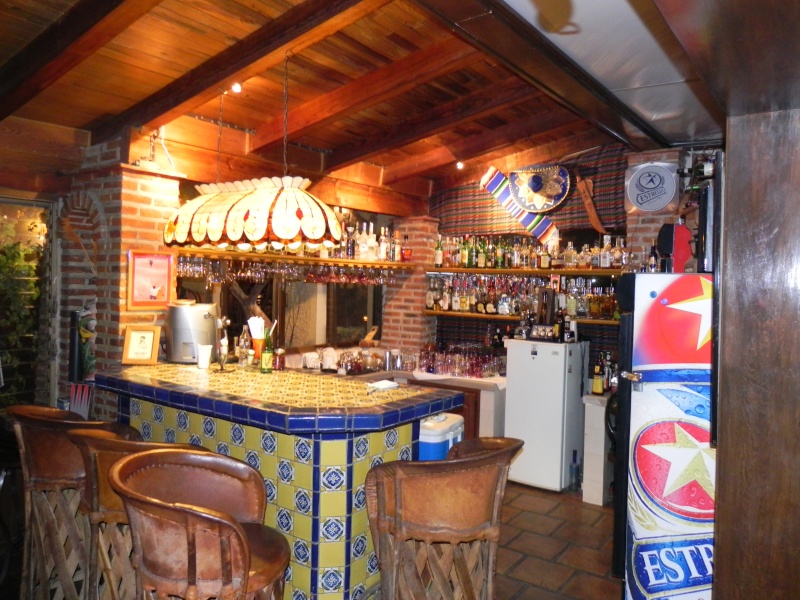 [/img]
Quinta Don Jose Slideshow:
https://picasaweb.google.com/118146709599975173363/QUINTADONJOSETLAQUEPAQUEJALMEXICO#slideshow/5699156078596268866
Quinta Don Jose Website:
http://www.quintadonjose.com/
Quinta Don Jose TripAdvisor Reviews:
http://www.tripadvisor.com/Hotel_Review-g659617-d260910-Reviews-Quinta_Don_Jose_Boutique_Hotel-Tlaquepaque_Guadalajara_Metropolitan_Area_Pacific_Coast.html

CheenaGringo

Share Holder





Posts

: 6697


Join date

: 2010-04-17



Looks good, very understated from the outside. I have to laugh at the strong drinks comment, Canadians are noted for their lousy drinks, undoubtedly due to the lamentable taxes we're forced to pay on alcohol. Over $40 bucks for a 40 ounce bottle. Mexico is a place you can believe in, no joking about that. Also, smokers can light up without fear of imminent bankruptcy.

raqueteer

Share Holder





Posts

: 1177


Join date

: 2010-06-30



While we both admit to having the "bad habit", I thought it would be helpful for those of us who are still foolish enough to smoke to know which restaurants are accommodating. For example, when we visited in August, at El Patio they would still let one smoke in the interior open air section. This trip, we were relegated to the front sidewalk tables but had no problem with their compliance issues. Interestingly, the Adobe and Casa Fuerte wouldn't even let you smoke at the sidewalk tables!

Charlie is one heck of a bartender and super personable! I am not sure of their exact 2 for 1 happy hour specials but it sure seemed like every drink was a double. On Friday night, we had drinks and out second dinner at TlaquePasta and after Charlie's free drinks for teaching him how to build a Rum Old Fashion, it was a struggle to "put one foot in front of the other" when walking back to the apartment!

CheenaGringo

Share Holder





Posts

: 6697


Join date

: 2010-04-17



Hey, what's the deal with the "bad habit" business? As you know, my considered opinion is that smoking is a healthy habit ( slight exaggeration). Billions may disagree, however I will not not be swayed, and I might add I have some medical studies to back that up, FWIW.
Let Adobe and Casa Fuerte rot, I for one, and speaking for my better half, will never return. Mind you, with the current transportation problem, we may be limited in our choices in any case.
Right now, life just sucks, big time.
Those doubles are sounding excellent right about now.



raqueteer

Share Holder





Posts

: 1177


Join date

: 2010-06-30



We've stayed at the Quinta Don Jose about five times. The owners, Arturo and Estella, are very personable and I hope they are still there. Love the location, the grounds, the pool and the secure off street parking. The rooms are getting a little worn and dated...probably due to their expansion...has their spa become a reality yet? The "evening" restaurant was new and undergoing start up pains when we were there last, about two years ago. Their breakfasts are good but basic.
Reasonably priced accommodation in a high rent area.


Last edited by ferret on Wed Jan 18, 2012 10:41 pm; edited 1 time in total (Reason for editing : sounded like their breakfasts were reasonably priced)

ferret

Share Holder





Posts

: 5720


Join date

: 2010-05-23



I stayed there when the restaurant was just being built and loved it. It is in a good location for walking around town. When the taxi stopped there the first time, my heart sunk. I thought here I am being dumped in a factory area. They didn't even have a sign at that time. What a delightful surprise I found once I entered the property. Everything was well done at that time.

itsme

Share Holder





Posts

: 706


Join date

: 2010-04-05



We are not sure about the status of the spa since we didn't think to ask. From a report that we received second hand, the upstairs rooms are apparently a little of the small side and possibly a bit worn. From the appearance of the lobby and ground floor areas, there certainly isn't anything that looks the least bit worn. But we did look into a couple of the units out by the pool and from what we could see, they looked quite nice. I am getting ready to post a report on the TlaquePasta Restaurant under a separate thread since we did eat there twice.

CheenaGringo

Share Holder





Posts

: 6697


Join date

: 2010-04-17



We finally broke down and busted our budget a bit on our last night in Tlaquepaque/Mexico this last trip and stayed at Quinta Don Jose Boutique Hotel the night before we flew home. Since I waited till the night before we headed for Patzcuaro to make a reservation. rooms were limited and I booked one of the "villas" across the street for a bit over $100USD with a AAA discount. As you will see from the following photo album, these units are fairly good sized with two bedrooms and plenty of space:
https://picasaweb.google.com/118146709599975173363/QUINTADONJOSEBOUTIQUEHOTELVILLA4?authkey=Gv1sRgCPeLhPCp-_asZQ#5849423227403215986
A couple of objections to these units: 1) you feel removed from the hotel & 2) the street noise is a bit much during the night. On the other hand, the king size bed was super comfortable, the unit was super clean and well appointed and you receive a continental breakfast included in the price.
[b]There is no question this is a "Gringo Hotel" and while you may see a number of Mexicans dining in the fine Tlaquepasta Restaurant, we haven't seen many staying there.

CheenaGringo

Share Holder





Posts

: 6697


Join date

: 2010-04-17



In 2007, they used to let me come in for 50 pesos and hang out all day at the pool, free snacks and the ambiance. Then I heard they stopped doing it because too many people were asking.
Those were the days. Lived in Tlaquepaque with a cheap day playground.

lilikoi

Senior member





Posts

: 64


Join date

: 2012-05-27


Age

: 66


Location

: Riberas Del Pilar


Humor

: Radical



---
Permissions in this forum:
You
cannot
reply to topics in this forum